Discover more from Inner Wilds
There's a world where the arc of history bends towards making the unconscious conscious. In that world, sleepwalking becomes a tragic memory, rather than a cultural default. I'm steering towards that world with somatic resonance, mythodynamics & devotion.
Over 1,000 subscribers
We're going to talk about developing trustworthy intuition, but first let's try an exercise together.
Put your hands in front of you, with your fingers an inch or two apart. Keep them relaxed but firm. Take a moment to put your awareness into your hands—feel your palms, your fingers, your fingernails, the joints, all of it. Close your eyes, take a few breaths to really sink into the hands.
Now, lightly shift your focus to the area between your hands, the empty space between right and left palm. Can you feel something there, like a light buzzing or shimmer?
Now, expand your awareness from your hands, up your forearms, through the rest of your body. Notice the space around your forearms—can you feel a similar buzzing shimmer in the air around your arms? Your shoulders? Your head?1
For that matter, move back inside your body, instead of around it. Now that you know the buzz you're looking for, can you feel its subtle shimmer in your skin? Your muscles? In the direct experience of your body that precedes any anatomical maps?
---
It can be tough to know what to do with this shimmer. Some folks might use terms like qi, prana, energy, or subtle body, and if those concepts sound good to you, they're good directions to explore—though to start by studying those frameworks can sometimes feel more alienating than helpful.
In a modern materialist culture, the most natural explanation for the shimmer tends to be something like "nervous system static." When I run someone through this exercise who's pretty new to meditation and body awareness, that's the core question that comes up: "I feel it, sure, but it seems like it's just my nervous system being buzzy. Not sure why I should look for deeper meaning."
Which is fair. But I might ask you in return: do you think there might be wisdom you can glean  from which patterns of nervous system static are awake right now?
The ways they move, soften, charge, and go numb throughout your day?

The qualities you can subtly sense in them sometimes, like size, color, emotional tenor?

Does it seem reasonable that strong uncomfortable static in your chest might correlate with something different than a soft pleasant static in your lower belly?

Or that when your whole-body static feels tight, that points at a different underlying situation than when it feels wide open and… a little bit light blue? Is that a thing? When did the shimmer start feeling like it has a color?
However we want to frame this experience of subtle movement in and around the body—qi, prana, energy, static, shimmer, buzz—there have been a whole lot of people and a whole lot of cultures who spent a whole lot of time and a whole lot of energy on attending to it—and seem to have gotten a whole lot out of it. Even a brief survey of things like pranayama, qigong, tai chi, acupuncture, and Thai massage point at how persistent frameworks for this have been.
Additionally: me. I have comparatively little knowledge or experience in any of the frameworks above; I've found the shimmer mostly through side doors and back roads, haltingly and crudely—and even I have managed to find my life enriched and enlivened by it.
It seems worth paying attention to.
---
All of us are already aware of this layer of experience in some ways. Complicated language and ancient frameworks have a way of obscuring how simply and straightforwardly it's already a part of our lives.
We all have the capacity to walk into a room with a dozen other people and go "huh, this get-together has great energy," or "oh jesus, the vibes are fucked in here." We feel the energy of a situation directly in our bodies—and not necessarily in anything we'd point to on the anatomical map of our bodies: not the skin or muscles or bones or joints. No, we feel it in a more subtle aspect of the body—the emotional atmosphere, the slight tugs and blooms and drops we feel in our heart and gut as we move through the day. This entire region of experience becomes much more available and sensitive when we notice it's subtler manifestations, like that slight shimmer all around and through your body.
If I asked you to explain your vibe-read of a situation, you might draw out all sorts of details about the room to justify it: people's posture, the background noise, how certain people cluster together, a dozen other things. But this isn't a Sherlock Holmes movie; you didn't step into the room and consciously analyze these elements piece by piece. You stepped in and had a direct experience in your body: "this situation is nice" or "this situation is bad."
People who train this layer of awareness can often read situations with shocking clarity and precision. They won't just feel "the energy here is bad," they'll notice intuitively "there's a lot of paranoia and stepping-on-eggshells energy in here, and it seems mostly centered on James; there's something going on with him that everyone knows about but everyone is avoiding, and most of them wish he'd leave."
Again, this isn't a conscious detective gimmick. The person noticing it might not even realize that they've noticed it. They'll simply navigate the room with a very direct experience of that information, and maybe try to subtly encourage James to head out for a bit so they can figure out what's happening. The read of the room's energy is felt sense background information—it's as simple and straightforward as realizing you're hungry, or noticing that the room is drafty.
The more you pay attention to the shimmer, the more you'll start to notice that it responds to everything that happens to you—often responding to things you didn't even consciously notice. Many times, I've felt an intuitive shift in my day, and stopped to wonder why I'm feeling that way. Then, I've usually realized that the shimmer had noticed something I didn't and responded accordingly.
For example, one day the shimmer responded to a book I was reading by taking on an anxious, buzzy texture. I got curious about why I was on edge and unable to focus. I realized that I should have stopped reading ten minutes ago—after a paragraph that felt deep and incisive—to dwell and journal on it. Instead, I'd kept reading ahead, driven to rack up a higher page count for the day. The shimmer put an end to that, creating an increasing background texture of anxiety until I couldn't read anymore.
---
A point that needs emphasizing here: none of this is superpowers or special visions. When we hear about ENERGY BODY and SUBTLE ENERGY and CHAKRAS and QI, we might be used to seeing pictures like this: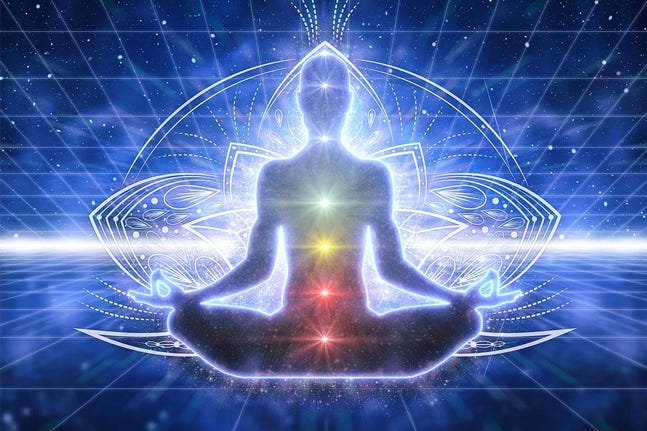 Pictures of superhuman bodies charged up with light beams, ready to do battle with whoever the hell the X-men are fighting these days.
And to go along with the pictures, you might read tales of psychic gurus gazing into the future with their third eye, or causing an enemy to collapse in front of them without lifting a finger. You know: superhero stuff.
I can't speak to any of the guru stories as reality or mythologizing—but I can pretty confidently say that pictures and stories like these are a bad reason to start practicing. They'll leave you feeling disappointed and will make you miss the actual valuable experience while you look for light beams and psychic powers.
Purely from an artwork-as-vibe-guide point of view, it might be helpful to start from different types of images. Some of these ones capture elements of day-to-day energy awareness: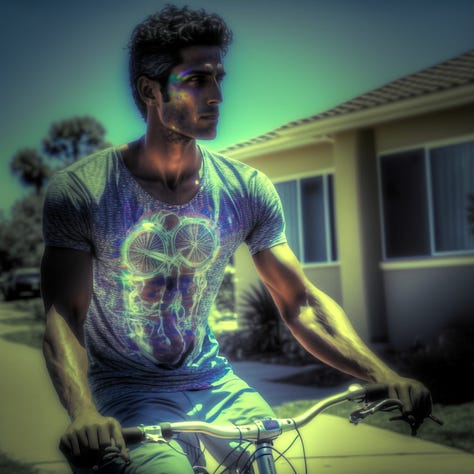 It's a very normal, everyday phenomenon, and one that gets a certain amount of training simply from paying attention to it and relating to it as the type of thing you can trust and value.
Even if you think of it as static, try not to think of it as "just" static. The presence and quality of static is always useful information—static on the tv or radio helps you know when you're almost tuned in to a good channel. Static in the air means lightning is about to strike. Static in your nervous system lets you know where you're activated, where you're numb, where you're feeling what kind of things.
The more sensitive we get not just to the shimmer, but to the qualities of that shimmer (movement, emotion, direction, color, memory…), the more accurate our day-to-day intuitions and situational awareness tend to get. The more closely we align with the direct experience of what's going on with us, the better sense we have of what we can do with it.
---
As with many skills, it can take awhile for the shimmer to develop into a useful automatic background awareness. Think about driving a car, for example: at the start, you have to consciously remind yourself to adjust the mirrors, check the space around your, be mindful of how responsive the gas and brakes are, how much to spin the steering wheel for a left turn, and so on. But over time, these things that took a lot of conscious attention and effort soon become so automatic they happen almost on their own. You start performing complex operations automatically without even pausing your conversation. It's so effortless that it doesn't even occur to you that it would have felt impressive to an inexperienced driver.
In the same way, you might start out exploring the shimmer quite consciously: meditating on its movements in your body, checking its emotional atmosphere in your torso every time you enter a room, noticing how different food and drinks affect it, attending to how it flows near different people, etc. It might feel overwhelming and hard to pull together. But over time, those things that required conscious attention start to become automatic. You shake hands with someone and feel a sense of lightness and trust in them—and hardly even notice that you're attuning to it through their energy. You decide to skip the gym today, and barely notice that you did this at the behest of a subtle grey tightness that wrapped around your chest as you were packing your gym bag2. All of this starts to feel so effortless and natural, it rarely even occurs to you that it would have felt like an impressive upgrade in intuition just a few short months ago.
It's a simple skill, and a rewarding one. There are about a thousand ways to start, if you feel pulled towards it.
It can be as simple as opening a voice note in your phone, and taking moments out of your day to start recording how the shimmer feels in different situations. Where is it strong and weak? Is there movement? Does a color seem to fit? What's the emotional atmosphere? Do specific memories feel present? Describe any ways it's comfortable or uncomfortable. —Journal like this throughout the day, you'll find yourself much more sensitive to intuitive experience very quickly.

Or you could dig into the ways that energetic awareness (the shimmer) is connected with the rest of your bodily experience. There's a lot to explore along these lines in my Somatic Resonance course, and in many other works on somatic meditation.

You could start digging into sources on qi, prana, and subtle energy. These often ask you to spend significant time absorbing their frameworks before advancing, but they all make for rewarding study for the right people.
My own routes in were through somatic meditation and a lot of social interactions where I held onto energetic awareness. I've heard of people finding their way to energy through yoga, qigong, dream work, and psychedelics. I'm sure there are as many ways in as there are people reading this, and I hope someday soon, I'll hear from someone who's first insight into the energy body came while picking out eggs at the grocery store. I hope we all keep realizing in deeper and deeper ways just how utterly normal and accessible all these so-called spiritual practices really are.3
---
---
I hope you found something helpful here; if you want to support my work and/or see more of it, see my Somatic Resonance course, Patreon, and link tree. Or just sign up for my Substack while you're here.
I'll also be starting a writing space soon, based around cultivating authentic expression, imaginal resonance, and true voice in writing. Leave your contact info on the site if you're interested.
1
Some people have a hard time feeling these sensations from a standstill—it can be helpful to either lie down and do some relaxation exercises first, or to do vigorous movement like running or weightlifting. Relaxing can help you notice subtle sensations that may have been "locked out" before, and exercise can help stir up so much sensation that it becomes difficult to NOT feel.
2
Or you dismiss the grey tightness as laziness, and throw out your back on the rowing machine, like I did.
3
Final overall note: "Shimmer" tends to be a good pointing-out instruction towards the beginning, to draw attention to a particular aspect of the energy body. But after awhile attending to it, the term stops applying so directly. For me at least, things tend to feel more like a glow or atmosphere or undercurrent more often than a shimmer. So don't get too attached to the term, be very ready to open up to non-shimmery aspects of embodied energy.